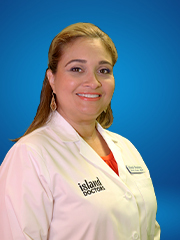 Doris Bustamante Evans
Provider
Doris Evans, MSN, FNP-BS was born in Caracas, Venezuela. She is a Bilingual (Spanish/English) board-certified family nurse practitioner with over 8+ years of nursing experience and over 10+ years of medical laboratory science experience. Her expertise includes wound care knowledge and treatments, med-surgical nursing, medical laboratory science/phlebotomy, and skin care laser treatments. Doris joined Island Doctors in 2017 as a full-time nurse practitioner and focuses on diagnosing and treating acute and chronic conditions under the collaboration of a multidisciplinary team of providers.
She received her Bachelor of Science in Nursing from Seattle University in 2008, Certificate of Public Health and Master in Science in Nursing in Family Practice from the University of North Florida in 2016. She is presently pursuing her Doctorate degree in Nursing Practice.
When not at work, Doris enjoys baking and cake decorating, salsa and Zumba dancing, physical fitness, college football (go Seahawks!) and spending time with her family.
Primarily, she will see inpatients at Flagler Hospital in St. Augustine.