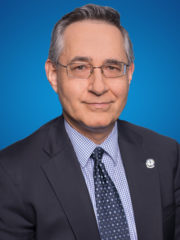 George Schroeder
Provider
George Schroeder, M.D., M.S., FACEP is a graduate of the University of Toronto, Faculty of Medicine, Toronto, Ontario, Canada, in addition to having earned a M.S. in Healthcare Management from the University of Texas School of Graduate Management, affiliated with the South Western Medical School, Dallas, Texas. He is a member of the Beta Gamma Sigma International Honor Society 2008.
He has served as Executive Director of Medical Affairs for the American Academy of Urgent Care Medicine, as well as a member of the Board of Directors of the American Board of Urgent Care Medicine. Dr. Schroeder is a Fellow of the American College of Emergency Physicians and has served as a Clinical Assistant Professor of Emergency Medicine at the University of Central Florida College of Medicine, in Orlando, Florida. He has published and lectured on Marine Toxins and Aquatic Hazards, and has extensive experience in Primary Care Medicine, Urgent Care Medicine and Hospital based Emergency Medicine. Dr. Schroeder was also promoted to Editor-in-Chief of the Journal of Marine Sciences: Research & Development, as well as Associate Editor for Marine Biotechnology – Frontiers in Marine Science. He continues to serve on the International Scientific Advisory Board for Tampa Florida based Magellan BioScience.
In their free time, Dr. Schroeder and his wife Judy Ann enjoy tennis, boating and fishing. They are also certified SCUBA divers, certified by SCUBA Schools International (SSI). Dr. Schroeder is primarily seeing patients at the Island Doctors Ormond Beach office in Ormond Beach.