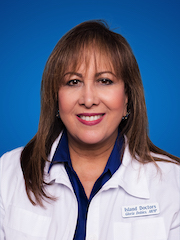 Gloria Dobies
Provider
Ms. Dobies obtained her Bachelor of Science in Nursing from Excelsior College, as well as her Master of Science in Nursing from Chamberlain College of Nursing in 2017. She is currently working toward her second Master of Science in Diabetes Education and Management.
Her history includes over 20 years of experience in the medical field practicing as a certified chronic disease/diabetes educator and nurse across Northeast Florida. She also maintains professional memberships in several American medical associations.
Ms. Dobies has received several awards and nominations for her skill and dedication, such as the Great 100 Nurses of Northeast Florida Nomination for Advocacy Nursing in 2013 and the American Nurses Association Honorary Nursing Practice Award in 2016.  Ms. Dobies is fluent in written and spoken Spanish and sees patients in our St. Johns County offices.