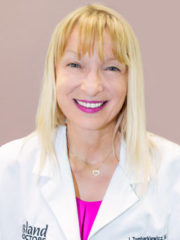 Jolanta Tombarkiewicz
Provider
Jolanta Tombarkiewicz, M.D. was raised in Poland.  She received her medical degree from Silesian University, Poland.  Dr. Tombarkiewicz completed her residency at the University of Miami Medical Program at Jackson Memorial Hospital. She is board certified in internal medicine and a member of the American Society of Internal Medicine.
Dr. Tombarkiewicz's interest includes Oriental medicine, acupuncture, yoga, Reiki, and Pranic Healing. She also enjoys gardening, cooking, traveling, sewing, singing, and dancing.
Dr. Tombarkiewicz sees patients in the Deland and South Daytona offices.