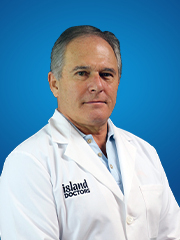 Krzysztof Lewandowski
Provider
Dr. Lewandowski graduated from the Medical Academy of Wroclaw in Poland in 1981, where he also completed his first medical internship, residency, and fellowship. Upon moving to the United States, he completed an additional internship with the SUNY Brooklyn in New York and residency with the Memorial Medical Center in Savannah, Georgia in 1996.
Since then, Dr. Lewandowski has practiced at a variety of American hospitals like the Doctors Memorial Hospital, Bay Medical Sacred Heart and Gulf Coast Medical. He has been treating patients at his private practice for the past 20 years and is currently board eligible in Internal Medicine.
Dr. Lewandowski is fluent in English, Polish, Russian, German and Esperanto. When not he's not providing quality on-site care, he enjoys kayaking, camping and bicycling.
Dr. Lewandowski sees patients at the Panama City office.