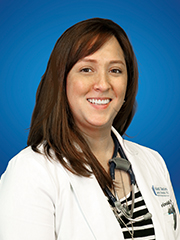 Lauren Kowalski
Provider
Lauren Kowalski is a physician's assistant with experience within the medical field beginning back in 2013 when she worked as a nursing assistant with the Atlantic Health System. She received her Bachelors of Science in Business Degree in 2011 from the University of Notre Dame, in South Bend, IN, with a supplementary major in Russian Language and Literature.
She went on to enter into the Physician Assistant Program at Nova Southeastern University, Jacksonville, FL in 2016, and received her M.S. in Physician Assistant Studies, August of 2018.
Her medical exposure grew while working on her M.S. in Physician Assistant Studies, with eight clinical rotations in multiple hospitals and clinics focusing on family and behavioral medicine, as well as general surgery, emergency medicine, pediatrics and women's health.
Her experience, as well as a continued interest in wound care, makes her an invaluable asset to the Island Doctors team.