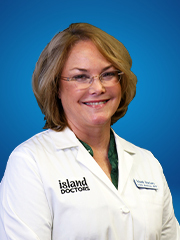 Leiane Boudreau
Provider
Ms. Boudreau is an Advanced Registered Nurse Practitioner in Internal Medicine. She became a licensed practical nurse through the program at St. Augustine Technical Center in 1984.  She continued her education there to become an emergency medical technician (1985) and paramedic (1986). In 1991, Ms. Boudreau graduated from Jacksonville University with her Bachelor of Science in Nursing and she later received her Master of Science in Nursing from the University of Florida in 2007.
Ms. Boudreau has served as a registered nurse for almost 20 years in such centers as Baptist Medical Center, Putnam Community Hospital, Jacksonville Surgery Center, and Shands Jacksonville UF Health. She has worked in emergency, trauma, and recovery departments.
After becoming a board certified Advanced Care Nurse Practioner in 2008, she served as an ARNP emergency department provider for Flagler Hospital in St. Augustine, Florida, as well as for St. Johns Urgent Care Center in Palatka, Florida. Most recently, she has served as an ARNP in Internal Medicine and Acute Care in the office of Dr. Jawad Farhat in St. Augustine, Florida.
Ms. Boudreau also currently teaches as an adjunct professor at First Coast Technical College, Florida State College at Jacksonville, and Jacksonville University's College of Nursing.  Ms. Boudreau sees patients in Dr. Farhat's office in St. Augustine.