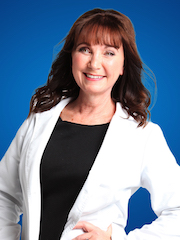 Linda Quinn
Provider
Linda Quinn, M.D.,FAARM, is Board Certified in Functional Regenerative Medicine, OB/GYN. Dr. Quinn uses a comprehensive approach to health and healing. She is an expert in functional medicine with a passion for empowering patients to create the healthy life they desire. Lifestyle factors can influence long term health and complex chronic disease. She believes the body is an incredible structure that, if we listen properly, tell us what it needs, and especially what it doesn't.
Her special interests include:
• Fatigue, low-energy, low libido
• Brain-fog, difficulty concentrating, difficulty sleeping
• Weight gain or weight loss
• Mood imbalances including depression, anxiety, mood swings, panic attacks, and irritability
• Osteoporosis
• Hypothyroid, night sweats, hot flashes, brittle hair and nails
Credentials and affiliations: SABA University School of Medicine: Doctorate; Hahnemann/Medical College of Pennsylvania:  MD, OB/GYN; Functional Anti-Aging Regenerative Medicine (FAARM); American Board of Anti-Aging Regenerative Medicine (ABAARM); American Academy of Cosmetic Surgery; American Functional Medicine Association; American Academy Obstetrics/Gynecology
Her hobbies are teaching yoga, reading, walking on beach, traveling, cooking and being with her four daughters and 7 grand babies.