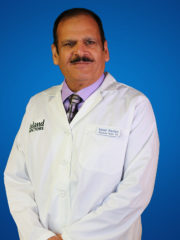 Muhammad Akhtar
Provider
Muhammad Akhtar, M.D. graduated from Punjab Medical School in Pakistan in 1982. He completed his residency at District Headquarters Hospital, Faisalabad. Dr. Akhtar began working as a physician in a small town in Pakistan and then moved to the metro area of Lahore where he worked in both the government and private sector.
From 2001 to 2003, Dr. Akhtar completed training in a Florida Board of Medicine program that focused on family practice. Since then, he has worked in a variety of settings to include: private practice, urgent care, the Florida Department of Corrections, Jacksonville Sheriff Office and most recently in Northeast Florida State where he was working since 2010.
Dr. Akhtar sees patients in the Orange Park community.