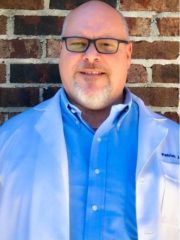 Patrick J. Harris
Provider
Patrick J. Harris, D. O. is seeing patients in the Palatka-Central office at 200 Mission Road.
Dr. Harris grew up in Crescent City, Florida, graduating from Crescent City High School.  He attended Stetson University in Deland, Florida and graduated with a Bachelors of Art in Psychology in 1989.  He attended Nova-Southeastern University College of Osteopathic Medicine, graduating in 1997.  Dr. Harris completed his Family Medicine residency in 2000, and has been practicing in Putnam County, Florida since.
He is a member of the American Osteopathic Association and the American Academy of Family Practice.  In his spare time, Dr. Harris enjoys sending time with his family, fishing, and an occasional ride on his motorcycle.