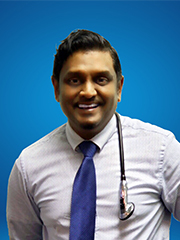 Rajesh Arun Persaud
Provider
Dr. Persaud graduated with his Pharmacy Diploma from the University of Guyana in 1994, as well as his Bachelor of Science in Biology from the City College of New York in 2002.  He received his Doctor of Medicine degree in 2007 from the Ross University School of Medicine.  Dr. Persaud also completed post graduate training at James J. Peters Bronx V.A. hospital, affiliated with Mount Sinai Hospital School of Medicine in New York.
He has gained experience in various positions the medical field over the last 14 years.  In 2011, Dr. Persaud served as an instructor for physicians prepping for the United States Medical Licensing Examination.  He has served as a clinical research associate for the Lincoln Medical and Mental Hospital in the Bronx, New York. He has most recently served as  general and family practitioner in the states of California, Montana, and Florida.
Dr. Persaud's interest include microbiology, physiology, behavioral science, and biochemistry.  He will be seeing patients at our Deland office.