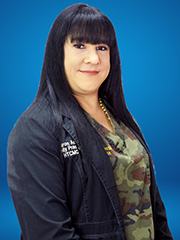 Sharon Acevedo
Provider
Dr. Acevedo is an award-winning family practice physician with over 20 years of experience as a practicing medical doctor. She began pursuing her medical career by receiving an Associates Degree in Respiratory Therapy at the Metropolitan University in San Juan, Puerto Rico in 1985. She went on to earn her Biology Degree soon after, which then lead to her completing her Doctor in Medicine and Surgery Degree at the Autonomous University of Guadalajara's Internal School of Medicine in the year 2000.
From there, Dr. Acevedo participated in a rotational internship at Dr. I. Gonzalez Martinez Hospital in San Juan, until 2001, moving on to her family practice residency at San Pablo Hospital in Bayamon, Puerto Rico which she completed in September of 2004.
Dr. Acevedo has been pursuing family medicine ever since, working her way from her first residency at San Pablo Hospital, in Puerto Rico, to relocating to Florida in 2006 to work with the Florida Department of Corrections for a time as a staff physician. She moved up to Jacksonville with a position at MCCI Medical Group, where she practiced for 3 years, and before coming to Island Doctors, she worked with Holy Trinity Community Medical Center for the last 5 years.
Some of the awards and honors Dr. Acevedo has received in her career include Jacksonville Magazine's Doctor of the year in 2015, 2016 and 2017. She also received the Compassionate Doctor of the Year Award in 2016 from the same publication. In 2018 she was presented with the Vital Patients Choice Award, and rounded out that year as America's Most Honored Professionals Top 1%.
Most recently, Dr. Acevedo was designated as America's Most Honored Professionals for 2019 by The American Registry.  This award is for her professional recognition by the media, medical professional organizations, colleagues, and patients.