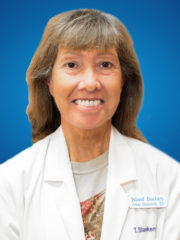 Tammy L. Blankenship
Provider
Tammy L. Blankenship, M.D., MS, MPH is seeing patients at our East Pensacola, West Pensacola and Pace Offices.
Dr. Blankenship was raised in Kentucky. She is a graduate of Morehead State University where she received both her BS and MS. Upon finishing her masters, she briefly taught in the RN program at Pensacola Junior College (now Pensacola State College) before going to medical school. In 1994, Dr. Blankenship received her M.D. from the University of South Alabama. She finished her residency with the U.S. Navy while earning her Masters in Public Health in 2000. She is board certified in preventive medicine.
Dr. Blankenship has seven years of experience practicing preventive medicine for the U.S. Navy and the Florida Department of Health. She has an additional 7 years of experience practicing primary care for the Florida Department of Corrections and at Florida State University. Her extensive experience in public health, practicing preventive medicine and primary care makes her an ideal addition to Island Doctors and our efforts to improve the health of the senior population of Escambia and Santa Rosa County.  Excited to be back in Pensacola, Dr. Blankenship spends her free time riding her bike, going to the beach and hanging out with her cats.