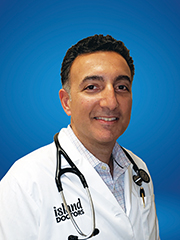 Jawad Farhat
Provider
Dr. Farhat graduated from the University of Florida with his Bachelor of Science in Chemistry in 1992. Afterwards, he continued his studies to obtain his M.D. from the University of Miami School of Medicine in 1996. From there, he proceeded to complete his residency in internal medicine at Jackson Memorial Hospital in Miami, Florida in 1999.
His experience in the medical field spans almost 20 years and he has served in such positions as the Medical Director of both Flagler Hospital and Community Home Health Care. Dr. Farhat has also served as the Vice President of Staff for Flagler Hospital, as well as the Chairman of several of their committees. Moreover, Dr. Farhat has been the owner and primary physician of his own private practice in St. Augustine, Florida since 1999.
More recently, Dr. Farhat was also named one of Jacksonville Magazine's Top Doctors from 2013 through 2015.  Dr. Farhat has joined Island Doctors and will continue to see patients in St. Augustine.