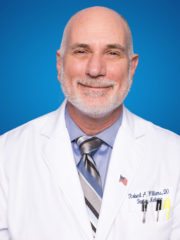 Robert A. Williams
Provider
Robert A. Williams., D.O. joins Island Doctors from Wauchula, FL. He brings over 20 years of experience as a Primary Care Provider and 9 years as an Urgent Care Provider.
Dr. Williams was born and raised in Miami, FL.  A graduate of the University of South Florida, he received his Bachelor's Degree in Biology in 1980. He completed medical school at Des Moines University Osteopathic Medical Center in 1984. After completing his family practice residency at Botsford General Hospital, Dr. Williams relocated to California where he spent the next 20 years in family practice. From 2007-2016, Dr. Williams practiced in South Carolina as an Urgent Care and Primary Care Physician.
Dr. Williams is excited to be back in Florida.   He is seeing patients at the Pace Office. He enjoys spending time with his family and looks forward to diving in the beautiful waters of the Emerald Coast.