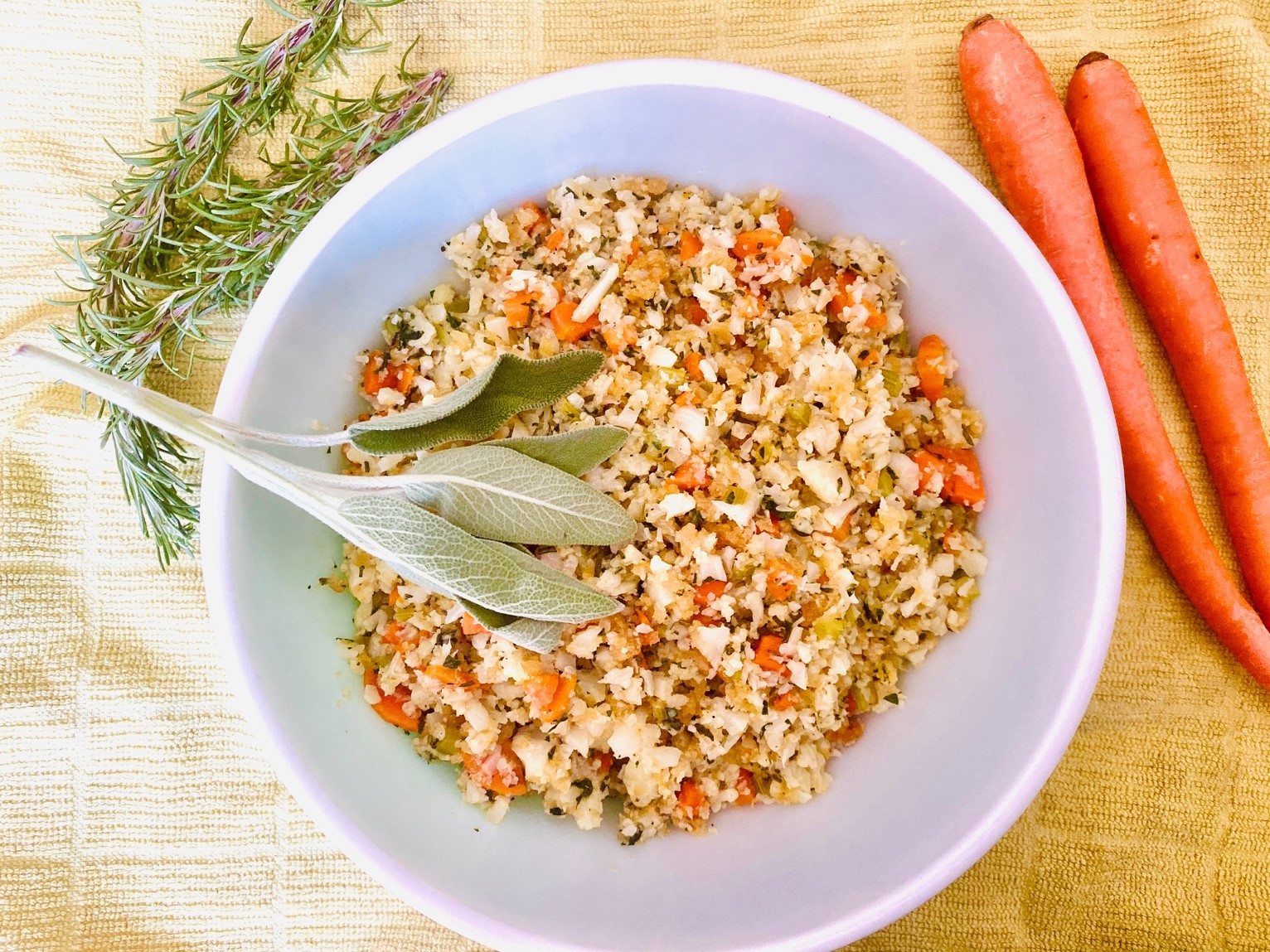 15 Nov

Foodie Friday

Cauliflower Stuffing

 

You can't have a Thanksgiving dinner without stuffing.  It is a staple Holiday dish that goes so well with a perfectly cooked Turkey.  This recipe is just as delicious as traditional stuffing and proves that bread is overrated.  As always, get creative with your spices.  Cauliflower is like a sponge and will absorb any flavors you add to it.  If using dry herbs, use half the amount.  Add cayenne for some heat.  Make this dish yours!  We added a bag of crushed pork skins to help give the dish a more bread like feel and it worked great.

INGREDIENTS

4 tbs. butter

1 onion, chopped

2 large carrots, peeled and chopped

2 celery stalks, chopped or thinly sliced

1 small head cauliflowers, chopped

1 cup (8oz) package baby bella mushrooms, chopped

Salt

Freshly ground black pepper

¼ cup  freshly chopped parsley

2 tbs. freshly chopped rosemary

1tbs freshly chopped sage (or 1 tsp ground sage)

½ cup low sodium vegetable or chicken broth

1 bag pork rinds, crushed

INSTRUCTIONS
In a large skillet over medium heat, melt butter. Add onions, carrot, and celery and saute until soft, 7 to 8 minutes
Add cauliflower and mushrooms and season with salt and pepper. Cook until tender, 8 to 10 minutes more.
Add parsley, rosemary, and sage and stir until combined. Pour over broth and cook until totally tender and liquid is absorbed, 10 minutes.
In the last couple minutes of cooking, add bag of crushed pork skins. Stir well to combine. Enjoy!
Nutrition
Per Serving
Calories: 90 Calories
Fat: 6g
Saturated Fat: 2g
Carbohydrates: 3g
Sugar: 2g
Protein: 6g
Sodium: 230 mg
 Be sure to consult your physician before starting a new diet or altering your current diet.