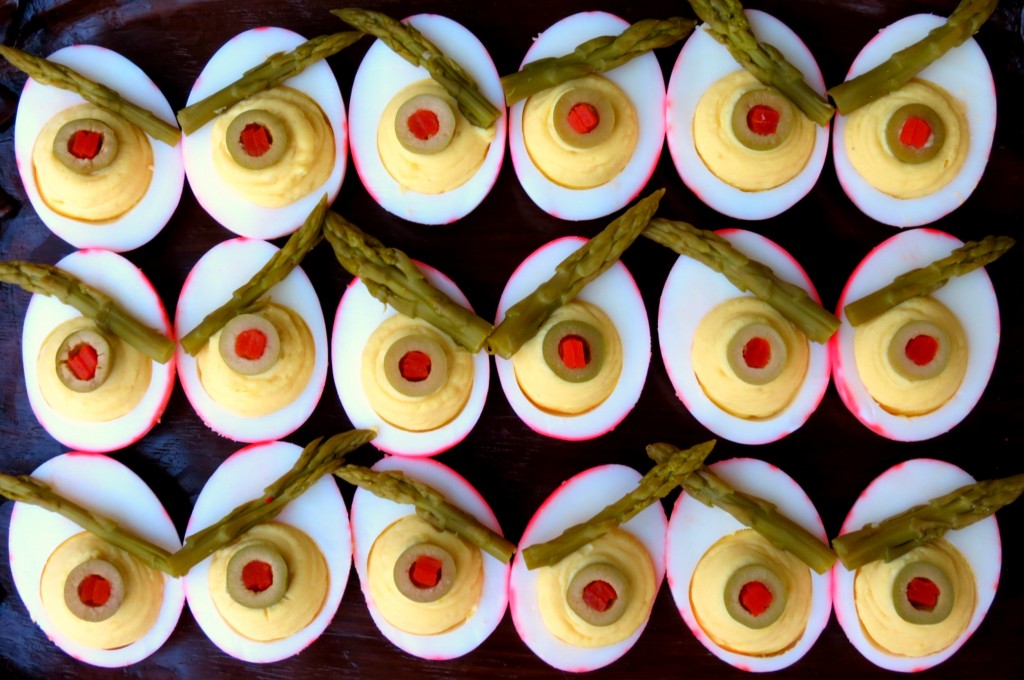 18 Oct

Foodie Friday

Healthy Halloween Snacks 

Halloween is upon us, and while that tends to mean candy and junk food, we're here to tell you that Holidays do not have to mean weight-gain!  We did a lot of research and found a variety of healthy recipes that will be satisfying for kids and adults alike.  They range in difficulty and preparation time, so whether you have some serious skills in the kitchen or you don't even know how to make toast, we've got you covered.  Follow the links for nutrition info.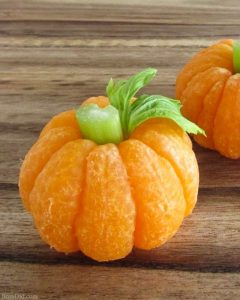 Let's start with an easy one. These cute little pumpkins only require 2 ingredients and the only skill you need is the ability to peel a tangerine and cut a celery stick.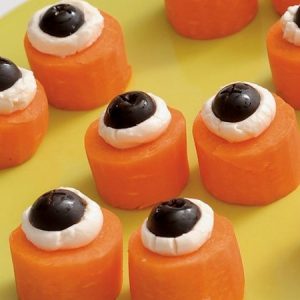 Another very simple yet adorable snack idea.  Just chop up some carrot, smear with some Greek yogurt or a little cream cheese, and top with a slice of black olive.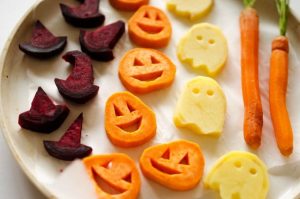 These roasted veggies look very festive but they have an air of sophistication.  A great snack for kids but also perfect for an adult Halloween party.  Get the recipe here!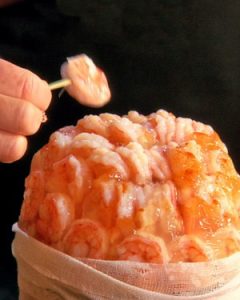 If you want to get really scary this recipe is perfect. Bloody brain using shrimp.  This is one of those more advanced recipes.  If you're feeling up to the challenge we think this would be a really great centerpiece at your next Halloween party.  Get the recipe here!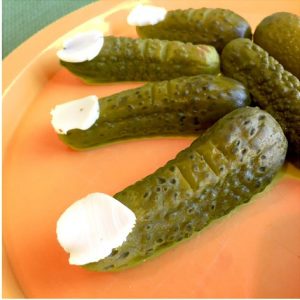 Pickles are such a great snack because they are negative calories! For this recipe all you need is some mini dill pickles, a knife, and a little cream cheese.  Just slice a couple times on the middle of the pickle for the knuckles, and smear some cream cheese at the ends for nails.  Get the recipe here!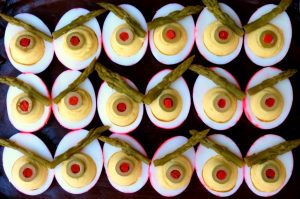 These angry eggs are too cute not to include on your healthy Halloween snack list.  Eggs are a great source of protein and who doesn't love deviled eggs?  Get the recipe here!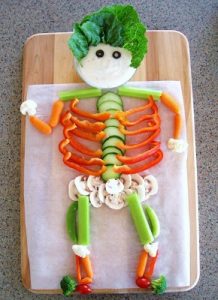 This one is the perfect way to help kids get some healthy veggies before jumping into those pillow sacks full of candy.  When veggies look that good it's pretty easy to forget that you're eating such a healthy snack.  Get the recipe here!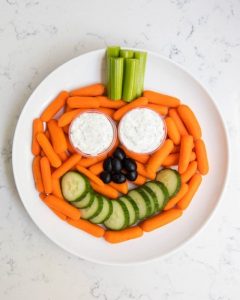 Of course, there's always more than one way to do things.  If your family is more into pumpkins than skeletons, this pumpkin veggie tray is another great option.  Get the recipe here!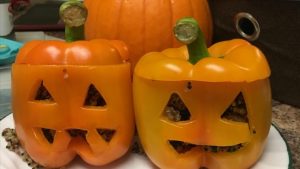 These stuffed peppers would make a great Halloween meal.  We just recommend leaving out the breadcrumbs in the recipe.  Otherwise this will be a very yummy and healthy Halloween dish.  Get the recipe here!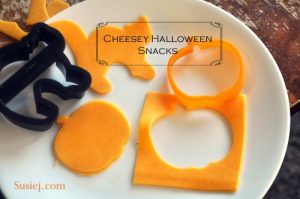 It could not get any simpler. Sliced cheese, check.  Halloween shaped cookie cutters, check.  You're ready to go.  Simple, cheesy, delicious.  Get the full instructions here!