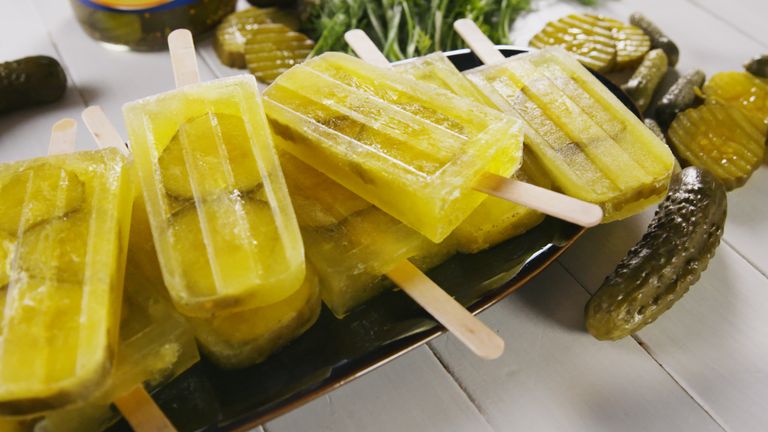 25 Oct

Foodie Friday

Pickle Popsicles

I know it seems strange, but these refreshing popsicles are actually a great snack for the warm weather.  Pickle juice may help prevent muscle cramps and replenish electrolytes.  Pickles are also a negative calorie food, so your body burns more calories digesting them than the number of calories they contain.  Not to mention, it's a great way to use up that left-over pickle juice that you might otherwise just dump out.  For the healthiest option, make sure to use dill pickles, or the no sugar added pickles with Splenda.  Most brands now have this option available.

INGREDIENTS
2 ¼ cups pickle juice

Slices of pickles (optional)
INSTRUCTIONS
Measure and pour pickle juice into popsicle.  If you don't have popsicle molds, don't worry!  You can use small paper cups, ice cube trays, or muffin tins lined with cupcake wrappers.  Then, cover tightly in foil and push a popsicle stick in the middle of the mixture.  The aluminum foil should help keep the popsicle stick in the center and standing straight up.
Freeze for four hours or until completely solid.
Use some warm water, if necessary, to loosen the popsicle from the container.
Optionally, you can slice up a couple pieces of pickle before you freeze and toss them right into your pickle juice.
Nutrition
Yields: 10 servings
Serving Size: 1 Popsicle
Calories: 0
Fat: 0g
Carbohydrates: 0g
Sugar: 0g
Protein: 0g